Having a baby soon and interested in determining your baby needs vs. wants? Here's everything you will need to survive year 1 with your baby.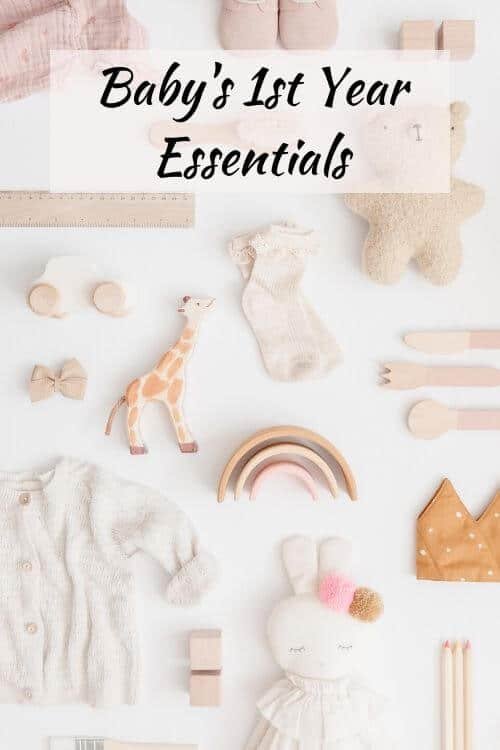 Unsure about your baby needs vs. wants?
With the constant release of new products and must-have gadgets and gizmos, it's easy to find yourself lost in a sea of the latest "gotta-haves."
When you finally manage to come up for air, you may find yourself scratching your head wondering, "What EXACTLY does my baby need?"
This comprehensive guide (from a mom of 3) will take a look at exactly what you'll NEED (and what's nice to have, but you could surely live without) and help you prepare yourself and your baby for EVERYTHING that will undoubtedly be a necessity in the first year.
**Please Note**
All NEEDS are numbered.
All WANTS are in bold AND say "Nice to have but NOT necessary."
This post all about baby needs vs wants.
---
This post may contain affiliate links, which means I'll receive a commission if you purchase through my link, at no extra cost to you. Please read the full disclosure here.
BABY NEEDS VS WANTS:
CLOTHING
1. Clothes
One of the first items you will have to provide for your baby is clothes.
During your stay at the hospital, they will provide all of your baby's basics regarding feeding, feeding accessories (bottles, etc.) or necessary tools (nipple shield, breast pump, etc.), linens, and other essentials you will need for the duration of your stay to keep your baby taken care of.
But when it's time to go home, you will need an outfit to clothe your little one (and, of course, many more days' worths of future outfits after that).
My post, How many baby clothes do I need in each size? | Complete Guide, tells you EXACTLY what clothing your baby's wardrobe should entail for a solid foundation that will be more than satisfactory for their entire first-year wardrobe or can be used as a great guideline to ensure your baby definitely has the basic necessities.
2. Hamper
You will want to keep a small hamper designated for your baby's clothes.
It will be most convenient to keep it close to your baby changing station so it is close by whenever your baby may be getting changed out of soiled diaper/clothing situations.
3. Sensitive Skin Detergent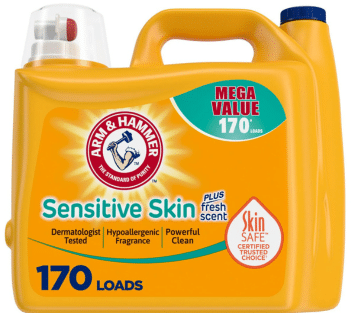 Your baby will likely have delicate, sensitive skin, and even if they've MAYBE been born with skin as tough as nails, it's better to be safe than sorry when it comes to their potential level of sensitivity.
I recommend Arm and Hammer Free and Clear over Dreft (the detergent infamously promoted as the detergent to use for baby clothes).
Both are fragrance-free formulas for sensitive skin, but you can get 170 oz of Arm and Hammer free and clear sensitive for less than $14 ($13.98 to be exact) compared to 150 oz. of Dreft for $22.99, and both do the same trick.
I personally prefer to use Arm and Hammer Sensitive Skin Plus Skin-Friendly Fresh Scent.
It smells wonderful and has never caused any skin irritation issues for any of my children.
I did initially start with free and clear detergent and then eventually tried the sensitive skin scented formula, which I love.
BABY NEEDS VS WANTS:
DIAPERING
4. Diapers
I recommend no more than 2 small packs of newborn diapers to start.
They go up to 10 lbs, and if your baby is very close to that weight or exceeds it, you may not need many of these, if any at all.
My firstborn only fit them for his first week.
With Amazon, you can choose the brand and size of diapers you want, add them to your cart, then click subscribe, and choose the delivery frequency you desire.
A continuous supply of diapers from a subscription service will ensure you never run out, which is a good thing but unnecessary.
Weekly or monthly trips to the store are sufficient.
5. Wipes
Baby wipes are always necessary companions of diapers and necessary to conveniently clean explosive messes and give baby's bottom a nice wipe down between tinkles.
I LOVE water-based wipes over the traditional type.
They're gentle on babies, feel super clean, and don't tend to leave the fuzzy residue behind that the traditional wipes do.
I didn't have one of these with my firstborn, and it wasn't necessary, but I did find diaper changing to be much more peaceful with the use of this device with my younger two since they were able to avoid the shock and discomfort of cold, damp wipes on their bums.
6. Changing Pad and Cover
This will be necessary to lie the baby down for diaper changes and soiled clothing changes. We put ours on an open section of our dresser.
The changing table is a nice addition to have along with the changing pad and cover, but you can make do by putting it on other surfaces instead, such as the dresser or bed.
These pads are placed directly on top of your changing pad and the cover to protect the pad from accidents, making clean up faster and easier, but these are not necessary.
7. Small Trash Bin with Lid
You'll want a trash bin with a lid to dispose of dirty diapers and enclose the odor somewhat.
I recommend getting small scented baggies to place inside your receptacle (unless you'd prefer just to use recycled grocery bags).
You can reduce the dirty diaper stench more if you put each soiled diaper in its scented bag, then tie it in a knot before disposing of it in the trash can.
Diaper genies are very nice for concealing poopy diaper funk, but not actually necessary.
Instead, you can opt to put poopy diapers in the main trash can or keep a bottle of Febreze by the baby's small trash bin.
8. Diaper Rash Cream
You never know when a rash may flair up.
Smoothing on a thick layer upon initial sighting of irritation can quickly eradicate the rash before it gets worse or becomes a fungal rash that will require a prescription cream from your pediatrician.
BABY NEEDS VS WANTS:
SLUMBER
9. Crib
Whether you're sharing a room with your baby or opting to provide a separate nursery for your little one, you will undoubtedly need a crib.
Nice to have but

NOT

necessary – Bassinet
I find bassinets nice to have when babies are newborns because they can be placed so close to the bed.
You can easily reach right in to touch your baby to check if they're breathing, too hot, too cold, or soiled and needing a diaper change.
But your baby will inevitably grow out of it and need a crib – definitely by 6-8 months.
Basically, whenever they can start sitting up on their own, it's time to move to a crib before they plop their tiny self right out of the bassinet.
A 4-in-1 convertible crib would be the best investment since you'll only have to make a one-time purchase of a crib that will gradually grow and transition with your baby from infancy to toddler to big kid.
10. Crib Mattress
This item almost goes without saying.
You almost need the mattress even more so than the crib.
A standard-size crib mattress (instead of a mini crib with a mini mattress) will also fit a toddler bed when your baby is ready for one.
11. Crib Bedding Set(s)
These sets tend to include a fitted sheet, comforter, and skirt, which was well suited for our needs, but you can find some other combinations.
We did not use the comforter until our baby became a toddler and could easily remove blankets from himself if need be.
We used sleep sacks before this point.
It is wise to have two crib bedding sets on hand or at least an additional set of crib sheets in case of any accidents, such as spilled milk, puke, or poo-poo, or anything else unexpected.
12. Breathable Mesh Crib Liner
Our baby would have smacked his little nose and entire face on the bars countless times if it weren't for the crib liner softening the blow.
And of course (priority #1), the mesh breathability prevents any potential issue with hindered breathing.
A monitor to keep an eye on baby in their crib, or wherever you lay them to slumber, is nice to have, but not necessary.
You can just keep them close instead.
BABY NEEDS VS WANTS:
BREASTFEEDING
When it comes to breastfeeding, we can't neglect that there will not only be items your baby needs, but there will be items that YOU definitely need.
NOTE: Some items will be repeated in the BREASTFEEDING and BOTTLE FEEDING categories so that if you're skimming the category that pertains to your situation, you won't miss what you need.
13. Breast Pump
These are provided by some insurance companies and will be very necessary for a breastfeeding mama.
Even if you don't plan to put your milk in a bottle for the baby, there will be times when your breasts may become engorged with milk, or your baby may not have drained them completely.
If that's the case, you'll want to remove the excess milk from your breasts.
14. Breast Pump Bra
A breast-pumping bra will make pumping your milk feel like so much less of a chore.
You can use this bra instead of holding the bottles to your breast while hunched over awkwardly, feeling bored for 20 minutes' worth of suction time.
It is beneficial for both at-home use and at work.
When I was working and pumping, I could have my hands free to use a computer or my cell as needed.
While at home, I just really preferred the freedom to channel surf or scroll through social media on my phone while pumping.
Having your hands free to do as you want while the bra holds the bottles to your breasts makes the process of pumping seem to go by much faster and easier.
I liked the Easy Expression Bustier by Medela.
Most of the bras I came across only had the option to choose the size in terms of small, medium, large.
Usually, this doesn't work for me because I have very large breasts, and I need to choose my cup size for the right fit.
But with the bra by Medela, I gave a large size a try because the sizing chart claimed to accommodate my size.
And they were right. The fit was just right for accomplishing my pumping goals.
15. Breastmilk Storage Bags
If you plan to save the milk you have pumped (instead of pumping and dumping) for future use, you will absolutely need storage bags.
16. Bottles
I really like Playtex bottles with the liners.
There are many baby bottle varieties to choose from, depending on your preference.
They even have boob-shaped bottles that may help reduce nipple confusion.
17. Baby Bottle Brush with Nipple Cleaner
You'll need one of these brushes to assist with a thorough cleaning of your baby's bottles, especially the attached nipple brush for scrubbing deep inside the nipple tip.
18. Bottle-Drying Rack
It is more convenient and sanitary to keep your baby's dishes washed and dried separately from the family's dishes, which may be covered in sauces, grease, and oils, and who knows what else.
Washing and drying our baby's dishes separately kept them grease-free and stain-free and made them more easily accessible than they would have been if they got buried in the drying rack with the rest of the household dishes.
19. Nipple Cream
Your nipples may get cracked, but at the very least, they will get dry and sore. This will help soothe them.
20. Nursing Pads
You will definitely want some nursing pads to absorb excess milk leakage, especially in the first couple of months of breastfeeding when you're quite likely to find yourself waking up in a puddle of your own milk. (Not very pleasant. Very uncomfortable).
Several things can trigger milk leakage, such as the sound of a baby's cry (any baby, not just yours).
These pads will absorb and conceal spontaneous and unexpected milk flow.
You can opt for disposable pads or reusable pads.
I personally purchased both and found that the disposable pads were my preference because they have an absorbent core that can soak up more milk than the reusable pads.
The reusable pads tend to become saturated with milk more quickly and easily, leading to more frequent leaks.
21. Nursing Bras
Nursing bras allow for easy, convenient access to your milk factory. Just unsnap and re-snap whenever you need it.
22. Nursing Camis
These camis will keep your torso covered when nursing in public.
They will also provide your torso with warmth when nursing at home since you can unsnap the breast portion of your top for feeding instead of lifting your entire shirt and exposing the majority of your upper body.
23. Nursing cover
You'll want one of these covers for public feedings or if guests are over.
You could substitute a blanket, but a blanket can easily fall off, whereas a nursing cover will be secured around your neck and won't slip off you.
I definitely recommend a nursing cover instead of a loose blanket.
24. Bibs
Your baby will need a wipe down and protection from potential messes, which can be done easily with a bib.
Plus, your baby's chin will get slobbery and sometimes milky.
I prefer bibs with a snap button as opposed to the velcro bibs.
I found that the velcro closure scratched my baby's neck and left abrasions behind.
Also, the velcro closure bibs are WAY too easy for your baby to remove as they get older.
25. Burp Cloths
Your baby will spit-up on you for sure at some point.
Drape a cloth over your shoulder whenever you're burping the baby or holding the baby upright (and it's even safe sometimes to drape it across their torso when they're lying in your arms – just in case).
You could also use receiving blankets or hand towels.
26. Nipple Shield
These shields work very well if you have flat, inverted, or only mildly erect nipples.
It will help the baby quickly and easily latch and provide a little extra protection for your nipples.
But don't be fooled; your nipples will still get dry and sore and possibly mildly cracked even while using nipple shields instead of bare nipples.
Bare nipples or shielded nipples are in for a ride either way.
27. Nursing Pillow aka Boppy Pillow
I highly recommend the Boppy Pillow instead of the My Brest Friend Original Nursing Pillow.
It is so much faster and easier to put around your waist and lay your baby on. Plus, the softer material is more comfortable on your body and your initially sore boobies.
It also serves a dual purpose because when you're not nursing, your baby can still lie on it for lounge time, nap time, or tummy time – even as they get older and are done nursing. My baby is 15-months-old and still puts it to use.
I preferred the Boppy Pillow instead of the My Brest Friend Original Nursing Pillow.
BABY NEEDS VS WANTS:
BOTTLE FEEDING
Bottle feeding will require fewer accessories for baby and mom's needs to be covered.
28. Bottles
I'm a fan of Playtex bottles, or if you're providing bottles for a breastfed baby, you may want to try the new "Boobie" bottles known as Nanobebe Breastmilk Baby Bottle.
29. Baby Bottle Brush with Nipple Cleaner
You'll need one of these brushes to assist with a thorough cleaning of your baby's bottles, especially the attached nipple brush for scrubbing deep inside the nipple tip.
30. Formula
If you are not using breastmilk, you'll definitely want plenty of formula.
When I transitioned from breastmilk to formula, I preferred using those developed to mirror the chemistry and nutrients of breast milk and brands that did NOT contain genetically modified organisms (non-GMO).
31. Bottle-Drying Rack
It is more convenient and sanitary to keep your baby's dishes washed and dried separately from the family's dishes, which may be covered in sauces, grease, and oils, and who knows what else.
Washing and drying our baby's dishes separately kept them grease-free and stain-free and made them more easily accessible than they would have been if they got buried in the drying rack with the rest of the household dishes.
BABY NEEDS VS WANTS:
BATHING
32. 4-in-1 Baby Bathtub
This 4-in-1 bathtub is a transitional tub that comes with a sling to lie your baby on as a newborn.
Then it graduates to being used with a seat that clasps within for a supported sitter.
Then the supported sitter seat can be removed entirely when your baby is mobile enough to sit and move inside the tub without additional support being necessary.
33. Hooded Towels and Baby Washcloths
You will want hooded towels to drape over your baby and ease drying their little heads.
The hood keeps the towel more steady and secure on them when you transition them from tub to bed or wherever you lie them down to complete their dressing process.
As for the baby washcloths, I say baby instead of standard because the washcloths designed for babies are extremely soft and perfect for a baby's delicate skin.
You can obtain combo packs containing multiple hooded towels and baby washcloths together.
Nice to have but

NOT

necessary – A Soft Body Puff
You may want one of these eventually when they're a supported sitter or full-fledged sitter.
A soft body puff will work wonders with speeding up the sudsy wash process, but it is not a necessity, and I wouldn't personally use one with a brand new baby. (I found very soft puffs at the Dollar Tree for $1 if you choose to get one).
I began using them about 1 – 2 months after my baby reached the "supported sitter" stage.
BABY NEEDS VS WANTS:
SUCKING ACCESSORIES
34. Pacifiers
From the moment your baby is born, and even while in the womb, they will instinctually have a strong desire to suck on something.
The moment they laid my secondborn baby in his hospital bassinet, at all of about 5-minutes-old, he was trying desperately hard to figure out how to get his swaddle blanket into his little mouth to suck on it. The nurses and I observed this, and they retrieved a pacifier for him.
If you don't provide your baby with a pacifier – which, of course, is completely fine if you so choose – I find that the baby will discover their thumb if they are interested in something to suck. But it is much harder to wean them off their own thumb.
It's attached to their body, they know it's there, and they will constantly go for it once they've developed that habit.
Even if you attempt to use mittens to wean them off, they will very likely find a way to get them off and pop that thumb right in their little mouth.
Instead, my first baby had small pacifiers and mittens.
He never got hardcore into thumb-sucking. He would suck the side of his hand through his mittens at times but never became a thumb sucker.
Instead, he took to pacifiers, which we were able to wean him off of starting at roughly 12 months, and he was completely done with them by 13 months.
We would pop it right out of his mouth (kindly and gently, of course), and within a month, he was over it and content without them.
35. Teethers
At about 6 months old, you'll want to have some teethers for your baby.
Teething can start between 4-6 months old, depending on the baby, but I didn't notice much interest in gnawing on them until about 6 months of age.
Your baby will want something to gnaw on, and these will make you feel much better and more comfortable than watching your baby trying to gum away at anything and everything in sight.
BABY NEEDS VS WANTS:
TRAVELING
36. Car Seat
A car seat is an absolute must-have and goes without saying that your baby absolutely needs to be transported in any and every vehicle within the safety confines of a car seat.
Even if you do not have a vehicle of your own, you will absolutely need a car seat if you plan on getting rides from friends, family, or public transit.
Some insurance companies will provide one to you for free. You can call yours and inquire.
A convertible car seat will grow with your baby from infancy until well beyond toddlerhood.
Depending on the season when your child is born, you may not need a car seat canopy. My babies were born during the fall and winter so these were a must for me.
A car seat canopy attaches easily to your baby's car seat handle and drapes over them, shielding them from the cold, high winds, and bright sun.
37. Diaper Bag
Any and every excursion outside of your home will require you to bring a diaper bag – and you'll be so glad you did.
You always want to be equipped with a few diapers and wipes, at least one backup outfit, and at least one bottle.
(I say at least because you may need more depending on the length of your trip. One of each should be sufficient for short trips).
You never know when your baby might get car sick, or have an explosive poo that leaks through their diaper and clothes, or is maybe having a growth spurt, and even though you gave your baby a bottle shortly before leaving the house they are now in a screaming fit of rage because they need more milk, RIGHT NOW MOM!
38. A 4-in-1 Convertible Baby Carrier
A 4-in-1 convertible carrier will grow with your baby throughout the first year and beyond.
The one I purchased is for a baby that is 8 lbs – 32 lbs. My bambino is 15-months-old and 20 lbs, so there is still plenty of life left to get out of it.
They work great to hold your baby close both safely and securely while being hands-free.
There are times when you really want or need to wash the dishes, do the laundry, start the beginnings of dinner, and your baby is in "Hold. Me. NOW." mode.
One of these carriers will allow you to do both tasks at the same time.
I also found these to be wonderful at the store.
Your baby's car seat won't always clasp to the child seat section of a shopping cart.
This could be either because of the way the car seat is made or the shopping cart itself.
If you plan to use the cart for its intended purpose of holding your groceries or whatever items you need, then having the carrier will let you leave the car seat in the car, carry your baby and utilize the shopping cart space the way it was intended instead of all the space being consumed by the car seat that's holding your baby.
Nice to have but

NOT

necessary – Stroller
A stroller can be nice to have, but I have honestly never needed one.
There were times I had to walk to the store with my baby to fetch some household needs, and I would put him in his baby carrier and have the ability to have my hands free to carry my odds and ends back home. I definitely preferred that.
And if you found yourself needing to shop with a cart, how would you ever push a cart with a stroller in tow?
Or if you just push the stroller, where are you going to place the items you need?
BABY NEEDS VS WANTS:
LOUNGING
Your baby will possibly get restless hanging out in the same spot all the time. Having a few options to choose from when your baby is fussy for reasons unrelated to needing to be fed or held or changed could be just what you need. Sometimes they just need an environmental change (i.e., somewhere else to lounge). With my bambinos, this was definitely the case.
NOTE: Please make sure you restrain your baby properly in any device that is equipped with restraints. They are there to protect your baby. This is so important.
39. Swing
A swing provides music and constant swaying, which can be exactly what your baby is in the mood for.
I used this one depicted above for my second and third born. With my firstborn, I used a space saver swing and really liked it.
40. Rocker
It rocks manually, seems very comfy for a baby, and is another nice alternative lounge area.
41. Jumper
There are times when your baby would like to be upright and move about a bit, even if they can't do much on their own.
The jumper will allow for all of that and more since they typically come with activity center attachments.
42. Pack'n' Play (aka playpen)
Initially, our second baby didn't take very well to his bassinet, but he slept like an angel in his pack 'n' play.
Also, as he got older, he would sometimes get completely OUT OF CONTROL climbing up furniture, running through the halls with items he snatched and didn't want to give back, pulling DVDs off their stand, and just causing complete pandemonium!
During times like these, it's very convenient to put your baby in a playpen so they can be semi-confined from tearing down the house but still have space to play and move around.
And sometimes, they just need a nap and will wind right down and lie down for some sleepy time in their pack 'n' play.
43. Heavy Quilts and Blankets (to lay on the floor)
Sometimes just chilling out on the floor for some tummy time is all the change of pace a baby needs to put them in a better mood.
Nice to have but

NOT

necessary – Bumbo
A Bumbo seat can be a nice optional addition to your baby's lounging gear if you want them to be able to sit up and hang out.
Or it can also be used in the beginning stages of feeding solids (around 4 months) when they're still not the best at holding themselves upright and can greatly benefit from some additional support.
BABY NEEDS VS WANTS:
HYGIENE PRODUCTS
44. Lotion
Your baby will get dry skin. Just how dry will vary based on different factors, but you'll want to keep your baby moisturized.
And you may need to alleviate cradle cap (crusty, scaly patches on your baby's scalp) by massaging their scalp with lotion.
45. Non-Talc Powder
Baby powder (without Talc) will help the diaper area dry faster and freshen little booties, especially after little poopy doos.
Depending on the lotion brand you choose, it can leave your baby with a semi-sticky residue feel on their skin.
Sprinkling them with powder and rubbing it on will offset that, making them feel soft and smell super fresh.
One lotion in particular that I loved the smell of but always left our baby feeling semi-sticky is Baby Magic.
Johnson's baby lotion will leave your baby feeling soft and smooth instead of sticky.
46. Comb and BrushSet
You will need a comb and brush for general purposes, plus they may need to be used in tandem with lotion to help alleviate cradle cap (crusty, scaly patches on your baby's scalp).
It probably won't seem to bother your baby, but it'll bring you peace of mind knowing that their scalp is getting moisturized.
47. Baby Wash
No need for shampoo. All you need is baby wash which functions as a two-in-one body wash and shampoo combo.
48. Cotton Swabs
Babies will have boogies from time to time. (Although my baby needed a nose cleaning almost every day).
And those teeny tiny nostrils are far too small to get into without the use of a standard-sized q-tip.
Also, we want to sweep those tiny ear canals free of wax buildup gently. But don't go too deep in that little nose or those little ears.
The thicker swabs developed specifically for babies will help prevent going too deep into baby's ears, but they are too thick for cleaning tiny nostrils.
49. Baby Nail Clippers + File
Your baby will quite likely be born with long, sharp fingernails.
Then, once they begin guzzling all that milk, it'll seem as though their nails are growing at rapid speed.
My little ones have to have a weekly nail trimming.
The nails will appear like they're not super long, but they're undoubtedly super sharp.
If I'm one day behind schedule on this, I'm likely to find tiny scratches on them somewhere.
If you feel a bit uncomfortable clipping those tiny nails on those tiny little fingers, you can file them down with baby emery boards instead. It takes much longer, but it'll do the trick.
You can get a nail clipping kit for your baby as well.
BABY NEEDS VS WANTS:
BABY FIRST AID KIT
50. A&D Ointment
You definitely need this for baby boys! You will need this ointment to apply to his circumcision (if he gets one) during every diaper change until he heals completely.
This is also useful for any minor cuts and scratches (from potentially sharp baby nails).
51. Thermometer
Fevers are incredibly uncomfortable for everyone, especially a helpless little toddler with a limited threshold for dealing with discomfort of any kind.
So be sure to check their temperature to determine if they are suffering from a fever.
According to the CDC, a temperature of 100.4° F (38° C) or greater or feeling warm to the touch indicates a fever.
According to our pediatrician, a temperature over 104° F means your child needs to be seen by a medical professional.
I personally love this particular thermometer!
It's no touch, all you do is point it at their forehead, and it provides you with an accurate temperature reading in one second.
It's so much easier and more efficient than all the other options.
52. Infant Tylenol
This will be the only over-the-counter medication your infant can take until about 6 months of age, and then they are permitted to use Ibuprofen (Motrin).
Infant Tylenol will work as both a fever reducer and pain reliever for your baby.
53. Nasal Aspirator
At some point, your little one is bound to get sick or have a runny nose.
It's not fun watching them feeling uncomfortable and having a tough time breathing comfortably due to excess mucus.
A nasal aspirator will allow you to suction excess mucus out of those little nostrils to help your baby breathe easier and with more comfort.
54. Vapor Rub (for babies)
Some vapor rub (for babies) will help clear those stuffy nasal passages so your baby can breathe better and sleep more peacefully as well.
55. Pedialyte
If ever your baby becomes dehydrated, you can replenish their electrolytes with Pedialyte.
Your baby may or may not experience frequent hiccuping. If so, Gripe Water will provide them with some relief.
The medicine bottle dispenser came in most handy for dispensing Gripe Water.
Gripe Water was thin and fluid enough to transfer easily through the nipple to the baby.
Other medications seemed too thick to transfer well through the nipple, and there was medicinal residue left on the walls of the dispenser bottle.
It was ultimately better to dispense medication using the syringe that comes with the medication (again, except for with Gripe Water).
If you have a gassy little one, this will help make them feel better.
This can help soothe aching gums that are sprouting teeth. But your baby may be satisfied with just gnawing on some chilled teethers.
BABY NEEDS VS WANTS:
FEEDING (Solids)
(Not necessary until about 4-6 months)
56. High Chair
You will need a high chair when your baby is still not the best at supporting themself for feedings, and even when they are good at this, they're still too squirmy to stay seated without one.
Space-saving high chairs work well, but you can choose from a standard high chair or transitional high chair as well.
I have used all 3 varieties and found the transitional high chair to be my favorite.
57. Bowls
You will need bowls to conduct baby feedings. I really like these bowls that suction to the table and come with a lid so you can conveniently store any uneaten food for later.
58. Plates with Dividers
The dividers will keep foods from mixing together so baby can taste each flavor distinctly and separately.
59. Spoons (with Soft Tips)
You will definitely want spoons with soft tips that will be gentle on your baby's mouth.
I find a slightly wider-mouthed spoon is much more convenient for attempting seamless delivery of food from the spoon to mouth.
The spoons I got are heat-detecting and will turn white when the baby's food is too hot.
For refrigerated leftovers that we microwaved, we always waited until the spoon color did not turn white to assure us we wouldn't end up burning our baby's mouth.
60. Waterproof Bibs
Your baby will be a pretty sloppy eater at times. You'll want to protect your baby's clothing with plastic bibs.
The bibs can be washed (although I would not dry them – just let them air dry) and easily wipe clean between feedings and washings.
You can use plastic or silicone as waterproof material as well.
61. Food
Fruits, veggies, cereal, yogurt, meat. All the goodness starts for the baby around 4 months (meat can probably wait till about 6 months).
These are very nice if you prefer to make homemade organic food for your baby.
BABY NEEDS VS WANTS:
BABYPROOFING
(after 4 months, closer to 6 months and beyond)
62. Gates
You will need these at the top and bottom of all stairs.
Even if you don't have stairs, you will need them to block your baby from going down some hallways or going into certain areas that don't have doors.
63. Cabinet and Drawer Latches
As your baby becomes a toddler and begins to explore (mine started at 7 months), they will open and peek into cabinets.
Sometimes they may tear leftover containers or pots and pans out of the cabinets or encounter toxic chemicals beneath the sink. Prevent them from doing so with cabinet latches.
Keep the contents of your drawers away from your curious toddler by securing them shut with drawer latches.
64. Outlet Covers
Protect your baby from potential electrical hazards by using outlet covers.
65. Corner Guards (for low tables)
Protect your baby's little head and face from bumps and bruises (courtesy of the table's corners) with corner guards.
I recommend just keeping the bathroom door shut, but if you have other kiddos running around who may forget to do so, a toilet lock would be a good investment to keep baby OUT of the toilet if they happen to venture into the bathroom.
**NOTE – You can also use the toilet locks to keep baby out of things other than the toilet. We had to use ours on the kitchen trash can to prevent our toddler from rummaging through the garbage!**
---
And now you are officially prepared for all the items you will need to survive year 1 with your new, precious baby and make life so much easier for you both!
This post was all about baby needs vs wants.
Other Posts You May Like: