Do you want to save money on baby clothes? Here are ten ways you can get your baby an awesome (and complete) wardrobe without breaking the bank.
When it comes to clothing your tiny little humans, you'll want to do so as low cost as absolutely possible, making sure to save money on baby clothes as you shop. Why, you might ask? Because they grow so stinking insanely fast. Especially when they're babies, it's like the smaller they are, the faster they grow.
Since each of their small clothing items will likely only last them a short while, why spend loads of money on clothes that you won't need very long? (It's kind of a sad thought, but it's true, especially since I LOOOVVEE babies! I wish the baby phase lasted at least a year or two longer).
Instead of dishing out money on crazy expensive clothing, these are the ten best ways I have found to save money on baby clothes.
This post is all about ways to save money on baby clothes.
---
This post may contain affiliate links, which means I'll receive a commission if you purchase through my link, at no extra cost to you. Please read the full disclosure here.
​
10 Ways To Save Money On Baby Clothes
1. Register for clothes
When you're pregnant, and your baby shower is being planned, register for baby clothing or write on the invitation "Feel free to get baby clothes up to 12 months" (or something like that). I chose to just write on my baby shower invitations.
Doing that allowed me to receive some nice, free additions to my baby's wardrobe. Since babies grow so fast, I wanted to have most of the clothes I needed up to age one because you never know when it'll be time to switch from one clothing size to the next.
Even though baby clothes come in 0-3 months, 3-6 months, and so on, your baby may grow out of them quicker than you expect.
You may reach for a 0-3 month outfit for your 2.5-month-old and realize it seems a bit snug, and it's already time for you to transition to 3-6 months sized attire.
2. Yard Sales
Attending local yard sales can be another cheap and easy way to get clothes for your baby.
When my firstborn was really young, my mom happened to be driving through town and noticed a yard sale. She bought me so many clothes that were $1-$2 apiece that it was enough to fill up a 13-gallon-sized garbage bag.
You can check your local newspaper for upcoming yard sales, and you can find online yard sales taking place as well.
3. Resale Shops
One of my favorite places to frequent when I'm looking to save money on baby clothes is at a resale shop. A couple of really nice ones in my hometown sell clothes that look brand spanking new for super low prices.
Depending on where you shop, a brand-new baby dress may run you close to $20 at a department store chain or retail corporation, so a resale shop is a much better option.
I just went shopping at a cute little resale spot called Iddy Biddy Fashion and bought my daughter multiple dresses that only ran me $3-$7 each. Most were an average of about $4 a piece.
Once you factored in the onesies and rompers I got her, I walked away with about 15 items that totaled $40! That means the average cost of each item was about $2.67.
4. Resale Expos
If there are any resale expos in your area, you can make out pretty well at them too.
In my hometown, they have an event called Kid Mania Kids Resale. It happens twice a year, once during fall and once during spring for three days.
You'll find a massive amount of kids' clothing, toys, cribs, strollers, car seats, and more. On the third day, most of the leftover items drop down to 50% off already low prices.
You can find out about this event in the local newspaper, plus you can go to the website to keep track of when future events will be taking place.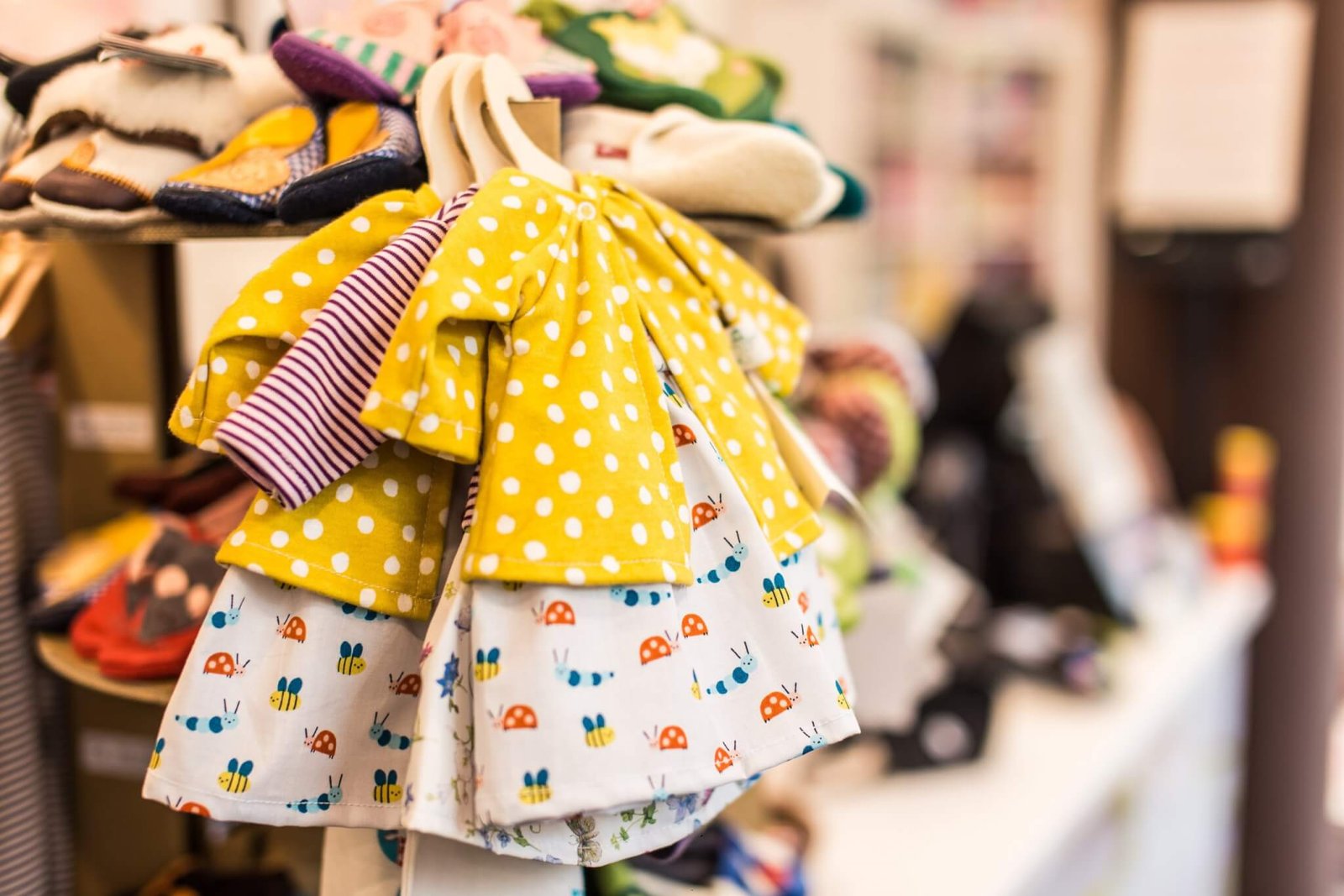 5. Consignment Shops
Purchasing clothing at consignment shops like Goodwill is another way to keep baby clothing costs low.
Just pay close attention to see if the clothes have any stains or anything wrong with them before making your purchase. We want to keep costs low but still keep our babies looking clean and well-kept.
6. Hand-me-downs
Receiving baby clothing from a friend or family member who is all done with their baby clothing days and ready to free up some space for other things is an excellent, cost-effective way to expand your baby's wardrobe.
When I had my first son, I worked with a girl who had a 2-year-old brother, and her mom was looking to give away the baby clothes he no longer needed. I let her know I was definitely interested.
So her mom got my number and directions to our home and showed up with three large garbage bags full of baby clothes ranging from newborn to 18 months.
Some of the clothes still had the tags on and had never been worn. I was so ecstatic that my co-worker's mom helped me add so much to my baby boy's wardrobe. There's literally no better way to save money on baby clothes than getting them entirely for free.
7. Donation Centers
There are places like the Salvation Army or Catholic Charities and sometimes locations specific to your local area (for me, we have a place called Genesis) that will give you baby clothes (and children's clothing in general) for free. You can go to these places and get some nice additions to your baby's wardrobe.
8. Clearance sales (always check for and snag up clearance deals)
Clearance sales are the best! There's nothing like getting brand new clothes for 1 or 2 dollars that were initially priced for way more.
I've found 5-packs of onesies for $1 at Walmart and felt like I hit the jackpot.
Whenever you see a clearance rack, I would recommend making a beeline for it.
You can also take advantage of those deals by getting clothes your child will need in the future, even if the rack may not have anything on it that they need right now. For instance, there's something for an 18-month-old that will be weather-appropriate when your baby turns 18 months.
It will still save you money in the long run since you'll buy the item now at a discounted price instead of waiting till that future date and paying full price at that time.
9. Community forums on Facebook
You can join community Facebook groups where people are giving things away or selling them for cheap.
A co-worker told me his wife would easily get a garbage bag full of children's clothing from individuals who no longer needed them for $50 0r less.
If you make arrangements to meet up with someone to make a purchase, I would strongly recommend that you bring a friend and meet in a public location that's widely populated and familiar to you, just to be on the safe side (seriously).
10. Filter Amazon
You can search baby boy clothes or baby girl clothes (or specify the clothing type like baby dress, baby boy pants, etc.) and see what pops up. There may be some pretty cute and affordable options right off the bat.
But you can also filter the clothing, so all the cheapest options come up first and with free shipping. Do so by clicking the "Sort By" tab and choosing "Price: Low to High" and then checkmark the box next to "Free Shipping by Amazon" so you can get free shipping on orders over $25. Do it in this order; otherwise, the box will get unchecked if you change the "Sort By" tab after checking the free shipping box.
Now, let's prepare a fabulous wardrobe for that sweet baby of yours at super sweet prices!
This post was all about ways to save money on baby clothes.
Other Posts You May Like: