Wishing of nothing more than sleeping comfortably during pregnancy? Sleep like an angel with these 10 pregnancy essentials.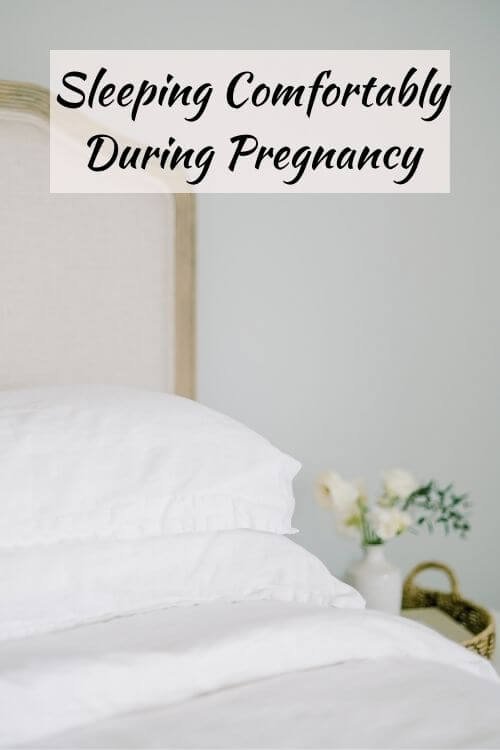 Comfort is sooo necessary but hard to come by when it comes to sleeping comfortably during pregnancy UNLESS you have the right pregnancy essentials to tackle the job. The further along you get, the more aches and pains will follow.
Getting a chance to come home, wind down for the day, and lay in a blissfully comfortable bed in a blissfully comfortable environment should go without saying.
Unfortunately, that's not always the case.
In my first pregnancy, I had the most uncomfortable bed and pillows ever and had the hardest time getting a good night's sleep. I had an even harder time ever getting to wake up feeling remotely refreshed or rejuvenated.
Trust me; you don't want that during the time that your body is growing a tiny human inside, all while wreaking a bit of havoc on your comfort levels for the greater good of the little angel that you will birth.
I learned from my past mistakes and made sure to set up the most comfortable sleep arrangement I could possibly muster with my last two pregnancies, and you can too.
Here are ten staple items that will make sleeping comfortably during pregnancy a reality for you.
This post is all about items for pregnancy essentials for sleeping comfortably during pregnancy.This post may contain affiliate links, which means I'll receive a commission if you purchase through my link, at no extra cost to you. Please read the full disclosure here.
​
[tcb-script src="https://f.convertkit.com/ckjs/ck.5.js"][/tcb-script]
GET YOUR LIST OF ESSENTIAL BABY CLOTHING NEEDS
Send me the list!We respect your privacy. Unsubscribe at anytime.Built with ConvertKit
Pregnancy Essentials for Sleeping Comfortably During Pregnancy:
1. Comfy bed
One of the MOST important pregnancy essentials you can have when it comes to sleeping comfortably during pregnancy is a SUPER comfortable bed!
How better to ensure you wake up feeling refreshed and rejuvenated than helping yourself experience the best night's sleep you can with a bed that provides maximum comfort?
And let's face it, we spend approximately 1/3 of our lives in bed.
There are 24 hours in a day – 8 of those hours are designated for work, 8 to try to enjoy ourselves, and 8 for a good night's sleep. **8/24= 1/3**
And when you're pregnant, you'll quite likely need even more than just 8 hours to devote to a restful slumber.
All that time of our lives spent in bed most certainly ought to be spent comfortably.
If you don't have a comfortable bed already, there are several options to choose from, some of which are super expensive.
Instead of going the expensive route, I recommend getting a gel memory foam mattress for less than $300.
This type of bed is a fraction of the cost of a purple bed, sleep number, or Tempur-pedic, but with all the comfort.
Tip – Protect your plush, comfy bed with a mattress protector to avoid sabotaging your mattress with spills or sweat.
2. Comfy sheet set
The next pregnancy essential you'll need to go along with your comfy bed is a comfortable sheet set.
I recommend cotton or at least a primarily cotton fabric.
I found that other, cheaper sets made with polyesters and the like made for a strange sweat situation. Weird lint balls tended to form, and they ultimately just felt much less comfortable overall.
You'll want sturdy, good quality sheets made with a soft, reliable fabric.
[tcb-script src="https://f.convertkit.com/ckjs/ck.5.js"][/tcb-script]
WANT A TO-DO LIST?
Tackle all of your parenting needs and preparations, and check them off your list!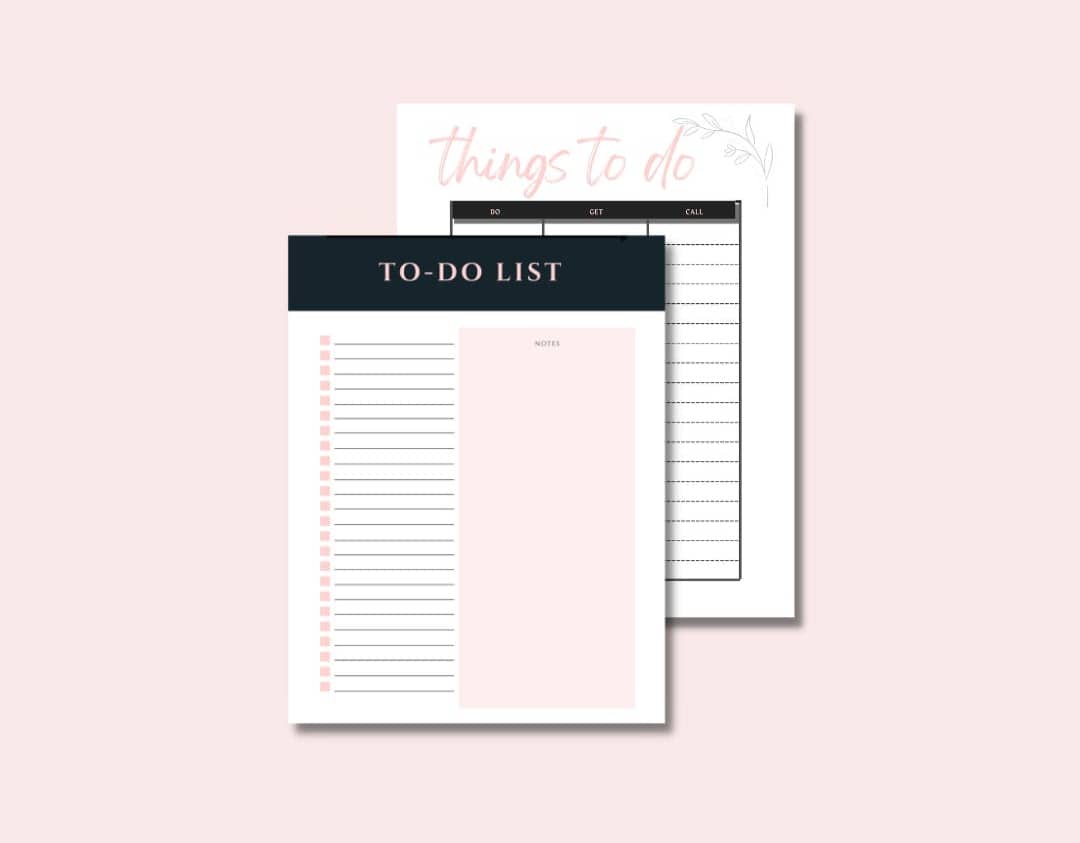 Send the list!
We respect your privacy. Unsubscribe at any time.
3. Standard pillow(s)
When it comes to providing yourself with the utmost comfort for a luxurious sleep, you're going to need comfortable pillows!
I don't know about you, but I've gotten the crappy, cheap pillows from the store that don't provide very much support for your head or neck and flatten completely within the week.
Opt for pillows that provide support and resist flattening.
4. Mattress topper
Combining your gel memory foam mattress with a plush mattress topper will make this bed feel even better.
5. Pregnant pillow
A pregnancy pillow helps provide extra added support and lift around your tummy, back, and legs.
There are various options to choose from based on the desired comfort and support that'll best suit you.
These pillows can wrap around your body. You can lay your pregnant tummy on top of them or tuck them beneath your back or between your legs to ease some of the extra pressure you may feel on certain parts of your body.
Oh, and FYI, once your baby is born, they'll more than likely love the pillow even more than you.
Both of my youngest babies tended to resist their bassinets during nap time occasionally.
So their dad would push the pregnant pillow together (to close the space in the middle of it), lay a receiving blanket on it, and then lay the baby on top.
They would sleep like angels on it. They could easily sleep for several hours at a time on it.
6. Boppy Pregnancy Wedge
A back wedge pillow will help provide even better support and help ease lower back pain.
Easing lower back pain frequently felt during pregnancy will definitely help you sleep better and more comfortably throughout the night.
I could sleep through the pains for a while, but eventually, I'd sense it, and it would wake me up. Having this additional support will decrease the frequency of this occurrence.
Additional Pregnancy Essentials for Sleeping Comfortably During Pregnancy:
These items will help reduce the amount of discomfort you experience throughout the day before bed. Preventing or reducing pains and discomfort will assist you in sleeping more comfortably during pregnancy.
7. Maternity Belly Support Belt
In my experience, your belly will grow pretty substantially, and the extra weight coupled with gravity pulling down on that growing belly feels very uncomfortable.
Any lift you can apply to resist gravity's pull on your abdomen feels so refreshing.
A maternity belly support belt will aid in lifting and supporting your pregnant belly. This will help reduce the strain on your midsection.
Feeling less tension in your midsection throughout your day means you'll feel more comfortable overall when it's time for bed.
8. Compression socks
Wearing compression socks can help reduce some swelling and discomfort that can be felt in the calves and ankles while you're pregnant.
My calves and ankles would swell substantially. It led to a serious case of "cankles" and subtle, but uncomfortable, gnawing pain in my lower legs and feet.
Compression socks helped me experience a decreased amount of this discomfort.
Decreasing the discomfort you're feeling in your lower extremities, again, means greater comfort overall when bedtime approaches.
9. Comfy underwear
If you're anything like me, then underwear is your staple item for bedtime.
Comfortable underwear is a must for this, especially while you're pregnant.
Whether it's bedtime or not, you're going to spend the bulk of your days in those underclothes, so comfortable ones are going to make you feel much better.
10. Heartburn medicine
For many pregnancies, probably most, heartburn will become an all too frequent visitor in your daily life, especially as you get further along in your pregnancy.
There may be times that it wakes you right up out of a deep sleep.
I know this happened to me very often during all of my pregnancies. So, I'd have to sit up waiting for it to subside because laying down actually made it worse.
To avoid heartburn keeping you up (and miserable) throughout the night, I recommend keeping heartburn medicine on hand. Make sure it's a brand that's approved by your doctor.
My doctor had a variety of over-the-counter options to pursue first. If they weren't doing the trick, then they would prescribe a heartburn medication for you.
Best Position for Sleeping Comfortably & Safely During Pregnancy:
Sleeping on your LEFT side!
It's the ideal position, especially as your pregnancy becomes more advanced and your pregnant belly really begins to grow.
Stomach sleeping will be a no-go as the baby gets bigger. It'll feel extremely uncomfortable, and I would definitely feel like (and assume that I probably was) crushing the baby.
Back sleeping in the second and third trimester is ill-advised. It will put your growing uterus and baby's weight on major veins and organs responsible for blood flow to the heart.
A doctor advised me that this would lead to reduced blood circulation to both the baby and mother. So you definitely don't want that.
Experts recommend sleeping on your left side, specifically, instead of the right, because it promotes optimal blood circulation.
Of course, you can still sleep on your right side, but the more often you can rest on the left side, the better.
Using a combination of these pregnancy essentials in conjunction with the best sleep position during pregnancy is sure to maximize your comfort throughout the night.
You'll wake up feeling more revitalized after having had a better night's sleep and optimal blood circulation.
This post was all about pregnancy essentials for sleeping comfortably during pregnancy.
Other Posts You May Like: