Are you considering becoming a single mom by choice? These 5 things will help you navigate your way through your new reality.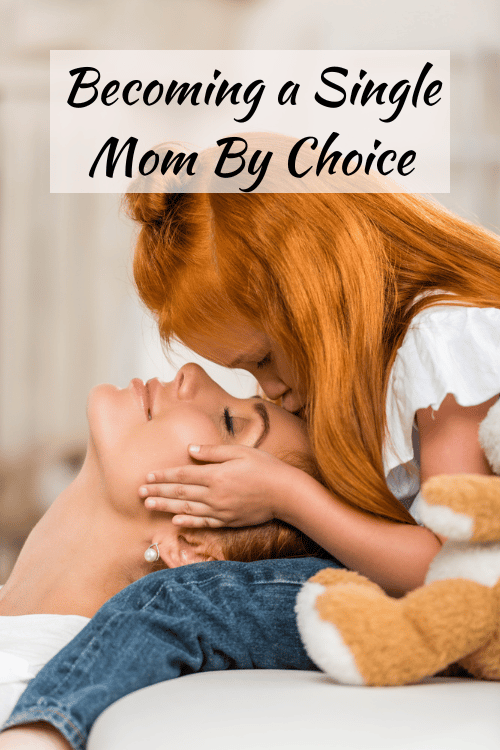 I know firsthand that becoming a single mom by choice can be a terrifying, overwhelming, anxiety-inducing whirl of a stressful time.
After ten long, tumultuous years of not being one (technically), I decided to leave my children's father and found myself immersed in single motherhood.
Though, I will admit it was long overdue.
I say "technically" I wasn't a single mother because he was THERE, but that was pretty much it.
All financial obligations were mine to bear alone. 90% of the actual DEEP cleaning was on me, errands, doctor appointments, events, you name it.
It was me who had to make the calls, do the traveling, tote things from here to there, buy the groceries, make the meals, pay all the bills, and so on.
He lived life like he was my "trophy-husband."
But he did help juggle the children.
When I went to work extra early to put in a double shift because I was the only one bringing in an income, he would help get our eldest dressed and off to school and tend to the babies' basic needs.
So the realization of dealing with all three children by myself, with no extra hands to help, no extra ears to bounce ideas off of, or an extra set of eyes to keep watch over them, I was a frenzy of nerves…initially.
But I got through it, figured some things out, and now I'm happier and more content than I've ever been.
And to get to this point, here are five things I prioritized when I first became a single mom that allowed me to make the transition smoothly and confidently.
This post is all about becoming a single mom by choice.
---
This post may contain affiliate links, which means I'll receive a commission if you purchase through my link, at no extra cost to you. Please read the full disclosure here.
The First Five Things You Need To Prioritize When Becoming A Single Mom By Choice
1. Take a First Aid Class
Taking a first aid class was one of the very first things I prioritized and did.
I couldn't help but think, what if something goes awry with one of these little children?
I had a baby, a toddler, and a 3rd-grader.
And little people love shoving random things in their mouths, even the biggest one of my little people (the third-grader). Yeah. He still does it too.
Now that it was just me, with no additional help, I needed to make sure I was prepared to handle the worst-case scenario.
So I googled first aid classes and my local hospital's name.
I discovered they offer first aid classes and heart saver certification periodically. So I signed up for their upcoming course.
They taught us how to perform Heimlich and CPR on adults, infants, and children, along with some basic first aid techniques.
I'm scheduled to go again for the next training in March. After that, I intend to go once a year to keep things fresh in my mind.
I strongly suggest that as a single mother, with your children's lives in your hands, you contact your local hospital and schedule yourself for heart saver training.
2. Set aside some income tax money for emergencies, holidays, and birthdays
To ease the financial strain and overwhelm, I recommend setting aside a portion of your income tax return money.
It will help you prepare for the unexpected and potentially high holiday expenses.
I mentioned before that I paid for everything anyway, but now as a single mother, I no longer had the convenience of having him watch the children while I worked extra shifts or additional jobs so I could make ends meet.
After all, there's a time limit to how long you can have your children in daycare.
Plus, who really wants to have their children in daycare ALL DAY LONG anyway.
It's a different story if they're at home with their father for a super long time, but not at daycare.
So, I found great comfort and security in setting aside money to help support my children and me.
I get a decent income tax return with three children, so I put $3000 of it into my savings account.
Besides providing a small emergency fund to fall back on, it significantly reduced the financial stress I usually felt around birthdays and holidays.
Around the holidays and special occasions, I usually had to consider what bills I would pay late, pay partially, or skip for the month entirely.
But that became a thing of the past once I prioritized saving income tax funds for these occasions instead.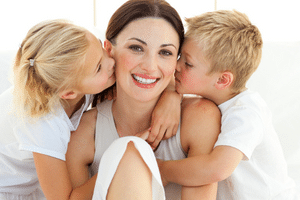 3. Give yourself time to adjust to your new normal
At first, it's absolutely normal to find yourself struggling with bouts of anxiety as you adjust to your new reality.
My advice? Just relax.
Take a deep breath when it flares up (literally). You may even need to take a few.
I promise you will get through this, and you can do this. Just give yourself time.
It may take 3-6 months, possibly more, to feel fully acclimated to your new lifestyle.
For me, it took approximately six months (maybe a little less) for the anxiety to wear away completely.
That length of time was primarily due to some financial concerns that had me on edge. Once that concern eased, so did the anxiety.
For about two months, I began taking a stress relief supplement along with my daily multivitamin to help me not feel so frazzled.
It did prevent that flooding feeling of anxiety that can sometimes seem paralyzing.
However, I still felt a bit discombobulated as I sorted through the overwhelm of how to re-stabilize our lives as I unpacked, redesigned, and re-babyproofed our new home.
Although my anxiety lessened, I noticed more frequent headaches while taking the vitamins, so I stopped.
Another source of anxiety was the initial wild behavior of the children.
We moved into a new home that wasn't yet organized or babyproofed, and it felt like pandemonium at first.
We'll get to how to handle that, which is another top priority when becoming a single mom.
4. Develop a flexible schedule that aligns with your life as the sole provider.
Without a schedule to keep your kids active, entertained, and adequately taken care of, things will get extra overwhelming and feel completely out of control. Trust me, I know from experience.
Sometimes they're picky eaters, restless sleepers, and so on, making it feel like getting them to adhere to specific activities at certain times may be unachievable, but just keep at it consistently, and things will fall in line.
Remember to make it flexible so that you feel free to modify the day as needed based on whatever random things the day may throw your way.
You don't have to micromanage every second of the day or treat it like baby boot camp, but having set activities and time frames outlined for the day will make everything much more manageable.
Before I established a schedule for my kids, it was so chaotic around here.
Pandemonium isn't even sufficient enough of a term.
I thought I might literally pull my hair out.
My suggestion for considering how to set up your schedule is first to consider what hours of the day your kids will be up (or what hours you'd like them to be up).
For example, perhaps they're up from approximately 8 am – 9 pm. Then consider everything you need and want to tend to with them within that timeframe.
For instance:
Wakeup time

Naptime

Bedtime

Storytime

Bathtime

Breakfast

Lunch

Dinner

Snack

Independent play

Family play

Activity time (make a craft or do a learning activity)
Once you've considered what you want to fill their day with, consider the best times to have them do each activity that works best for you and any other obligations that need your attention throughout the day.
5. Organize little by little (you don't have to do it all at once)
Lack of organization creates overwhelm, anxiety, unrest, and an overall sense of lack of control.
If things don't have a functional, clearly defined space to retrieve them and return them to, things can quickly get cluttered, dirty, and lost.
That's the other problem. Losing items you have and not realizing you have them because they weren't somewhere you could quickly identify and find.
Now you're constantly wasting money buying things you already have but couldn't find.
Additionally, if you don't have your things put away neatly and they're randomly around within arms reach and line of sight of your child, they will get into and destroy EVERYTHING.
For example, when we first moved into our new home, and things weren't yet organized, I nearly lost my mind dealing with constant scattered messes of stuff EVERYWHERE.
Initially, I would take something from them and randomly shove it someplace high or in any closet or cabinet so they couldn't get to it.
All that did was lead to a rapid build-up of disorganized, massive clutter.
If your home isn't organized, develop a plan to start organizing and cleaning little by little.
Just remember, to effortlessly keep your space clean, you must organize it first.
Divide your rooms into areas that need to be organized and do a small task per day or every other day.
I've been doing my best with dollar tree bins and chalk labels.
There's more variety for dollar tree if you purchase online, but I chose to go in the store and try a few of the different types to get a feel for what I like and what works best since you only have the option to purchase in bulk online.
A couple of my favorite organization resources for inspiration and ideas on how and where to start are Organizedish and Do it On a Dime.
As you organize your space, you can then clean it and make a conscious effort to maintain that order by staying on a cleaning schedule.
I found this fabulous 52 weeks to a clean home checklist on Pinterest and have been following that, as well as some weekly cleaning schedules that help me tackle and stay on top of keeping my home clean little by little.
Two of my favorites are this one that's a more basic maintenance routine that helps you keep your home looking tidy, and this one that enables you to complete small daily deep cleanings for a consistently spotless living space.
---
And there you have it. Five insanely important things you need to prioritize when first becoming a single mom.
Successful completion of all five of these will make life much smoother, save your sanity, and boost your confidence in your ability to knock this thing called motherhood out of the park.
You can do this, mama! Promise.
This post was all about becoming a single mom by choice.
Other Posts You May Like