Looking for 2 year old birthday presents that they'll love and actually play with for hours on end? Here's 11 genius toys your toddler won't be able to get enough of.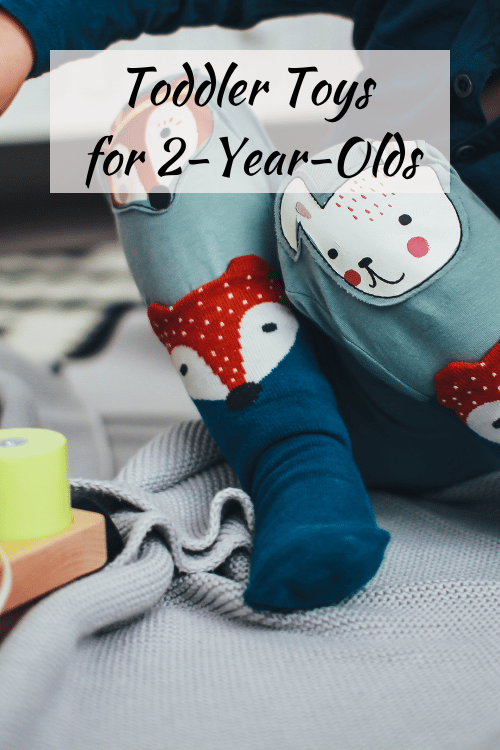 If you're on the prowl for some awesome 2 year old birthday present ideas, then you've come to the right place!
Sometimes, little toddler 2-year-olds have a bit of a short attention span.
They may be interested in a toy for about two uninterrupted minutes before they're off getting into things (other than toys – like refrigerators and cabinets) they shouldn't be.
Well, I experimented with some different toys and some real-life (or close to it) alternatives for my wild child, living, breathing, Thing 1 toddler, and found SUCCESS!
What kind of success, you ask?
Success keeping him entertained and enthralled with some of the best and most adorable toddler toys for a 2-year-old.
This unwavering interest allowed him to enjoy some independent play that didn't involve ransacking the house (in fact, some of it includes cleaning the house ;)).
Here are a variety of toddler toys for 2-year-olds that your little one will absolutely adore! These toys are perfect for both boys AND girls!
This post is all about 2 year old birthday present ideas.
---
This post may contain affiliate links, which means I'll receive a commission if you purchase through my link, at no extra cost to you. Please read the full disclosure here.
Two Best Characteristics of
2 Year Old Birthday Presents:
Toys that encourage being a big kid

– Small children love to feel like they're doing what they see big people around them doing. The closer a toy is to the real thing, the better. And if it's at all possible, get them the real thing. Just get it child-sized, if necessary.

Toys that promote independent play

– One on one time with your little one is great, but toys that keep them occupied long enough to engage in healthful independent play by themselves are fantastic as well.
Best 2 Year Old Birthday Present Ideas:
1. Dummy Cell Phone for Kids
Dummy cell phones are stinking awesome!
For the toddler who loves to try to answer the phone or run off with mom and dad's phones, these are the coolest.
If you didn't know any better, you'd swear it's the real deal!
Mind you; these are not functional phones.
They're basically a shell of the real version of the phones but don't contain the innards that allow them to function.
Or you can opt for an awesome, more play-like version instead.
Benefits:
Your wild child gets to feel like they have a real-life mobile device, so they can, hopefully, spend less time running off with yours.
2. Kids 7-inch Tablet with WiFi and Shockproof Case
My toddlers absolutely love these tablets. It comes with a screen protector in addition to the shockproof case, which is truly essential if you're a mom of unruly toddlers.
Additionally, it has so many pre-installed, completely toddler-friendly games and apps that facilitate so much learning and fun!
You can add a warranty (which I highly recommend) for just a few extra dollars. It came in handy when one of my toddlers submerged theirs in water.
I filed the claim online and was provided with a gift card for the cost of the tablet so I could buy a new one.
Benefits:
The fun, interactive, engaging games on these devices will have your little ones knowing their ABCs and 123s in no time.
3. Kalee 6 Volt Black Lil Cruiser Motorcycle
What little boy doesn't love their own means of transportation?
(And in the form of a motorcycle, no less). This small cruiser is incredible.
First, it's super cute and compact. Perfect for indoor use.
That's where we used ours primarily. So convenient, right?
During winter and, more importantly, during COVID, when we're avoiding people like the plague and keeping our distance, your munchkin can still have fun cruising indoors instead of having close encounters with strangers outside.
Second, it's got little foot pedals to control it and an easy button to press to move forward or backward. It's super straightforward for your little one to jump on and cruise along from room to room.
Third, it's crazy cheap. We got ours at Walmart for less than $40.
Benefits:
The Kalee 6 Volt Black Lil Cruiser Motorcycle is just the right size for a 2-year-old, perfect for indoor use, and easy for a small child to handle.
4. Kitchen Appliances
Girls and boys alike have tremendous fun pretending to whip up their own personal kitchen concoctions.
These interactive kitchen appliances were a total hit with all the kiddos, even the big one (our 9-year-old boy)!
You can add water to the coffee maker, which makes real percolation sounds.
We added about ½ cup of water to the blender, and the blade actually rotates.
The kids got such a kick out of watching the whirlpool form in the blending water.
You can even push down the toaster lever and watch the toast pop up.
Benefits:
It was intended for the toddler, but our big kid, the toddler, and the baby were utterly entranced by the realistically interactive kitchen toys (especially when we allowed them to add some water to the mix).
5. Baby Shark Sing-Along Microphone
This cute baby shark microphone plays the Baby Shark song while your little one sings along or just listens.
There's also a setting where they can just speak or sing with silly effects on their voice without the music playing.
Benefits:
You can use this microphone for impromptu mock karaoke during family night fun that centers around your toddler.
What toddler doesn't adore being the center of attention?
6. Pop-Up Play Tunnel, 6'
This tunnel is another toy that you may intend for your toddler but is great fun for their other siblings, too.
All three of our children love taking turns following each other through the tunnel or racing back and forth.
We ended up getting a second tunnel to place side by side with the other to let the kiddos have legitimate races.
It's such great fun for them.
Benefits:
All that rapid crawling (or more like army crawling for our bigger kid) helps them get in some unnoticed exercise.
7. Trampoline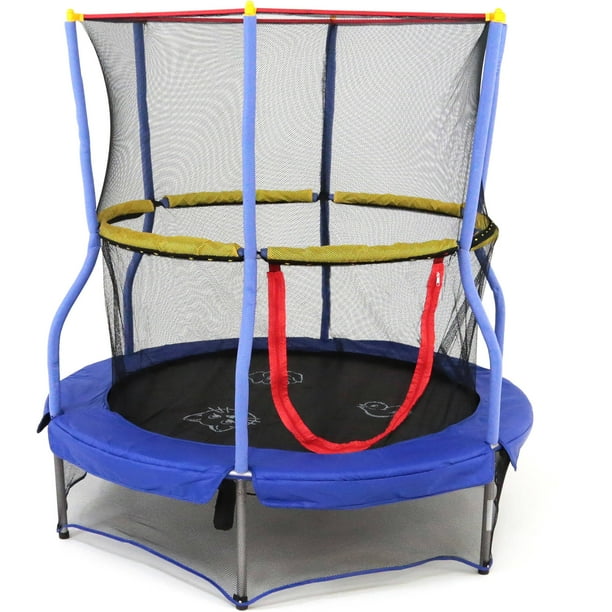 More exercise trickery fun comes in the form of a trampoline (let's let those kiddos tucker themselves out for a beautifully, long-lasting, restful night's sleep for them).
Lots of tiny tots are natural little jumping beans; mine definitely were.
So naturally, after months of watching them jump and jump in their cribs as they held onto the rail, it was more than fitting to upgrade to a proper trampoline in their toddler years.
Benefits:
You can get one big enough for a buddy to join in on the fun while still being small enough to fit nicely indoors.
There is a smaller option available if you don't need room for more than one child.
Plus, it also includes a learning feature. Jump on the cat and hear a meow, the dog barks, the bird chirps.
8. Pop-Up Ball Pit
Here's another gift that provides a great source of family fun with your toddler's awesome toys as the focal point.
Your little munchkin will be thrilled to have everyone join in on the playtime excitement of the ball pit while shooting some hoops. It's like an ultra-mini Chuck-e-Cheese right in your home.
Your toddler will have fun for hours playing in this ball pit.
It's for boys and girls, so it comes in your choice of pink or blue.
Don't forget to add on the balls; they don't come automatic (weirdly enough).
Benefits:
If your toddler is running around getting into everything, you can put them right in this playpen-style ball pit to contain them and stop the chaos in the house, and they won't even realize you just shut down their nonsense.
They'll be too preoccupied having fun in the ball pit to shed any tears or pitch a fit because you removed them from whatever mischief they were partaking in.
9. LeapFrog 2-in-1 LeapTop Touch
This little laptop doubles as both a laptop and a tablet.
When it's open, it functions as a laptop, and when you shut it, it automatically flips to transform into a tablet. It's adorable, functional, and educational.
Benefits:
While you're busy conducting your computer or tablet work at home, your mini-me can snuggle beside you and feel like they're a part of what you're doing while they click-clack on their device.
My toddler loves to sit beside me with his while I'm working on my computer.
10. Power Wheels
A great first transportation toy for your 2-year-old is this little Mercedes.
It's a wonderfully compact vehicle that can be ridden indoors and complements the cruiser motorcycle, especially if you want to help your baby start their first "flashy vehicles" collection.
Your little one can ride in style and safely indoors so that they don't have to sacrifice fun during these trying times.
Benefits:
You can let your toddler drive it, or if you want or need to, you can control it yourself with a remote controller. There's also a convenient handle beneath the front if you need to tote it indoors and outdoors.
Plus, we're proactively teaching driving knowledge and promoting safe driving practices during indoor joy rides. Why not get an early start on that? (I know…I'm in no rush for those days either).
11. Housekeeping Cleaning Tools Set
House cleaning is very amusing to most toddlers. (Enjoy that while you can).
This house cleaning set will make them feel genuinely involved in the household chores and daily routines.
It's an excellent way for children to help maintain the household instead of being required to stay out of the way. *Not that they won't still get in the way sometimes.*
Benefits:
Cleaning with your toddler around your home can present more of a bonding, interactive experience and teaching opportunity to show your little bit the proper ways to put those tools to use.
Do so at your discretion, of course. I'm sure you won't want them around if you need to work with harsh chemicals.
Want a Real-Life Alternative?
Go to forsmallhands.com where they have an assortment of indoor (and outdoor) cleaning tools made specifically for small children.
12. LeapFrog Pick Up and Count Vacuum
If your toddler is interested in what you're up to when he sees you using the vacuum (like mine is), then this little vacuum is a MUST HAVE.
I saw this cute LeapFrog vacuum and just knew he HAD to have it.
The vacuum sucks up the accompanying little colored coins for realsies.
It collects them in a collection pan in the back.
You can then scatter them back onto the floor for more vacuum suction fun or count them with your little one.
My toddler got this vacuum for his birthday and fell in love with it!
He vacuumed all day, all night, and all week…for several weeks, literally.
Benefits:
Age two is a great age to teach basics like colors and counting and introduce some familiarity with chores.
So this vacuum was a triple whammy of education (teach colors and counting), training (demonstrate how to vacuum), and fun (it's super enjoyable) that was a complete hit!
If your toddler is anything like mine, then he will be so enthused with a real deal vacuum.
I got the idea to try the real thing because my little son found a charging cord that he would plug into the wall before he started up his LeapFrog vacuum.
He was trying to create the illusion that he was plugging in his vacuum and doing real housework.
I promptly ordered the Bissell bagless vacuum with a removable handle that adjusts to a little handheld vacuum that is just the right size for a 2-year-old.
The vacuum is already in separate pieces when you receive it, meaning the handle and crevice tool are not yet attached. So just don't connect them, and it'll already be in perfect working order for a tiny tot.
Benefits:
This small vacuum will not only excite the pants off your toddler because they have their very own personal-sized adult gadget, but it provides an excellent opportunity to introduce chores to your toddler gently.
And while they're gently adapting to doing chores (unbeknownst to them), you'll have the most adorable cleaning assistant ever.
My toddler LOVED this real deal vacuum, which I just could not resist getting for him.
Now, let's put a massive smile on your little sweetheart's face with these 11 toddler toys your 2-year-old will absolutely LOVE, from an experienced mom with a 2-year-old who's obsessed with all of these!
This post was all about 2 year old birthday present ideas.
Other Posts You May Like: